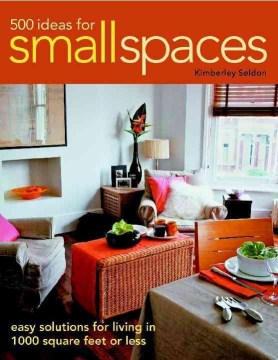 500 Ideas for Small Spaces : Easy Solutions for Living in 1000 Square Feet or Less
Publication Date:4/1/2010
Copies Owned: 1
Available: 1
Details and Reviews
Publisher : Quayside Pub Group
Attribute:
Text to Speech Enabled

Synopsis:
"A practical guide featuring 500 real-life remodeling, organizing, and decorating tips for making a small home look and function better"--Provided by publisher.
Industry Reviews:
Cahners
More and more, baby boomers face the prospect of trading in their large homes for smaller accommodations. Seldon, host...